Business
Benefits and reasons to resort to outsourcing your office cleaning
To perform office cleaning and facility maintenance tasks, there are two possible solutions, either hire staff or think about outsourcing cleaning, find out why so many companies decide on the second option!
Services such as maintenance repairs and cleaning of spaces are essential when it comes to projecting an excellent image, or at least a correct image in all types of businesses, and although they are complementary concepts for the development of the business activity, they also require proper care.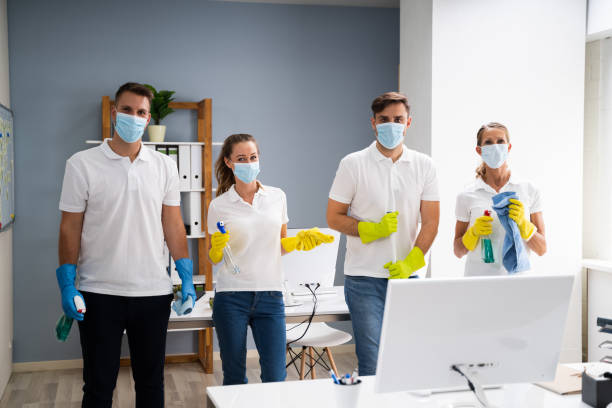 Given that these are aspects that require sufficient dedication in terms of time, resources, and effort, more and more companies are delegating this type of function to specialized companies when it comes to carrying out these tasks, opting to  outsource cleaning, and other services such as janitors, gardeners or repairs.
That is why at SCS Group Integrated Services, as an agency with a long history in the sector, we want to highlight the reasons why so many companies that in many cases have previously tried to solve their needs in different ways, finally decide to  outsource cleaning. 
Contents
1 Benefits of hiring a cleaning agency compared to other options

1.1 Guarantee of professionalism

1.2 Eliminates conflicts in terms of labor responsibility

1.3 Economic benefit of outsourcing cleaning
Benefits of hiring a cleaning agency compared to other options
Guarantee of professionalism
Cleaning  outsourcing provides guarantees by contracting professional agencies, in which we carry their activity out with a method based on structured work, through:
Cleaning staff with qualified operators to carry out each type of specific task
Initial and periodic training programs in advanced  cleaning systems
State-of-the-art techniques and products that guarantee better results at a lower cost
Specific planning  with a detailed study of the  most appropriate cleaning needs and procedures in each case
Routine supervision is included in the programming of services for each client.
Security in terms of confidentiality, and guarantee on documentation, equipment, and valuables, since cleaning outsourcing companies or other specialties are required to have the corresponding insurance to cover all types of contingencies for which they are responsible.
This means that in the face of the uncertain knowledge that someone hired directly may have, and the improvisation of someone who does not have the latest resources in the sector at all times, the consolidated cleaning companies will always provide superior guarantees, obtaining better results in the care of the facilities.
Centralizing this type of service by outsourcing cleaning means having special actions when necessary without having to resort to another provider, such as urgent cleaning,  floor polishing, carpet cleaning, upholstery cleaning, or construction cleaning.
Eliminates conflicts in terms of labor responsibility
Cleaning companies with a long history have good staff when it comes to covering all the needs of their clients, so the continuity of the service is guaranteed in the event of sick leave, maternity leave, absenteeism, or voluntary dismissal.
They also spare their clients the cumbersome personnel recruitment processes when hiring cleaning employees, and all labor procedures and obligations in relation to this type of employee, such as hiring, leaving, vacations, permits, contributions, and payroll.
Economic benefit of outsourcing cleaning
In all cases,  outsourcing cleaning always represents significant savings when it comes to covering this need, given that:
Avoid loss of time in the internal monitoring of the quality of the work carried out by the cleaning staff and the replacement of products.
It eliminates the costs of equipping with uniforms and suitable footwear. Those of training in risk prevention are typical of this activity.
It allows guaranteeing jobs that maintain all types of surfaces in office cleaning, in the most optimal conditions, eliminating the possibility of deterioration due to inadequate procedures.
They facilitate maintenance work by optimizing times and adapting cleaning work services to the hours that each office only needs, avoiding downtime and its consequent costs.
Organized monitoring
It allows organized monitoring of the state of the surfaces included in each office cleaning protocol, facilitating the anticipation of immediate repairs and thereby avoiding breakdowns with higher costs.
It eliminates the need to gain equipment for cleaning machinery and its maintenance, and also allows consumable hygiene products to be available without having to wait for their replacement, and at a lower cost.
But that's not all, because many maintenance and cleaning companies also offer their services at helpful cost conditions by making contracts for medium-term periods, as bonuses and other offers that include first cleanings or special cleanings.
How do you see the concept of "outsourcing " so widely used today in the business world, it is widely used in the professional hygiene sector in which cleaning outsourcing is the most effective option with successfully covering an essential service, for your image and the well-being of your employees and customers. 
Bet on outsourcing cleaning services and dedicate your time and effort to what you do best, requesting two or three quotes to compare offers, among which you can include us without commitment.
Discover everything we can offer you with maintaining office cleaning impeccably, with the most reasonable costs,   by contacting us now!