Office cleaning: How and why should I keep my office clean? If you have not yet stopped to think that keeping the office clean is a priority in the development of a business, here you will find very convincing reasons that will make you change your mind and pay more attention to this important aspect endorsed by surveys on office conditions.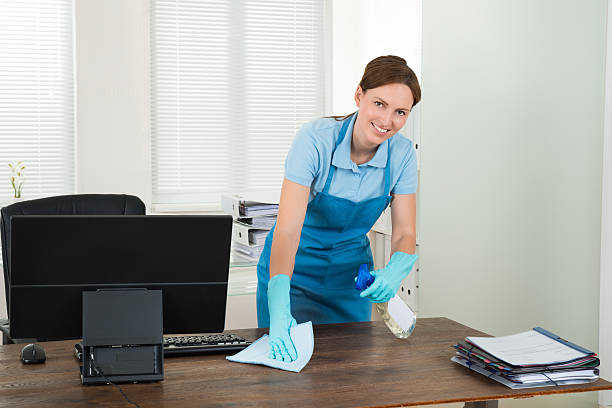 Although it is a topic already widely publicized in all kinds of media, both through professional cleaning companies and legal provisions on hygiene at work, there are still some clueless employers who continue to not give all the importance it deserves this matter. 
So in SCS Group Integrated Services, we dedicate this article to clueless, stressed, or new business executives to consider the value of a clean office, and to those who carry out this valuable activity, by taking care in their routines to maintain effective hygiene.
Contents 
1 Reason that justifies the need to maintain a clean office

1.1 Employee health

1.2 Image Values

1.3 Productivity

1.4 Savings
Reasons that justify the need to maintain a clean office
employee health
Among the variables that can act on the health of workers when there is no acceptable hygiene, are those of a physical and mental nature?
There are many daily hours that people spend at work, so the environmental conditions in which they carry out their activity can determine the development of allergies and the spread of diseases because of infection among colleagues or visitors if there is not adequate cleaning of the office.

But also the obligation of having to stay and perform in an unhealthy place day after day affects the mood and motivation.
A clean office decreases the amount of sick leave and absenteeism from work
Image values
We have all seen office facilities with ugly and worn floors, due to lack of cleanliness, deteriorated furniture, accumulated dust, and dirt, and an unpleasant musty smell, which really invites you to run away.
But this is not all, because, besides the feeling of unease that this image produces, it generates an automatic distrust of the capacity, resources, and organization of this type of entity, which does not mind having a clean office.
The first sensation when entering a clean office conveys the idea of ​​order, perfection, interest, detail, and therefore professionalism and quality of service
The image of a clean office is essential in any business because it conveys the interest of those responsible for excellence, and this concept is associated with their activity, with the services offered to customers.
It also shows concern for the workforce, by providing them with a harmonious environmental space with good conditions, which the visitor can associate with the company's ethical values ​​that immediately translate into trust.
Productivity
If you have not yet considered how the state of your office affects your performance, you should continue reading:
A clean, tidy and ergonomic office offers the right conditions to increase productivity, thanks to the motivation that workers find in a comfortable and pleasant environment in which it is easier to perform.
But, even if the employees clear their tables after work, they cannot be expected to carry out tasks such as cleaning windows, floors, or toilets, necessary to maintain a clean office, because these tasks are not related to their professional preparation or the object of your contract.
In this sense, the most effective solution is to delegate these services to one of the experienced office cleaning companies, to guarantee the continuity of the tasks with a fixed price that also includes the replacement of hygienic consumables and cleaning products.
Have you stopped to think that:
Details such as toilet paper or soap are usually forgotten by office managers and employees until it is time to use them and their absence causes a lot of discomfort to users
Saving
Keeping the office clean saves money in the medium and long term for these six reasons:
Daily cleaning maintenance work in offices prevents dust from accumulating and entering computers and other equipment, causing uncomfortable and costly breakdowns.

The routine tasks of the cleaning service naturally facilitate the review of many details about the state of conservation of all types of elements and surfaces, in such a way that they speed up maintenance with more immediate minor repairs.

Hiring office cleaning companies avoid loss of dedication to the main activity, because "your time is money".

In addition, the hiring of a  cleaning agency eliminates the problems of discontinuity in the service thanks to the planning of tasks and sufficient personnel to replace absences due to abandonment or illness.

It also avoids legal problems related to the hiring of cleaners in order, and the possible administrative sanctions related to this aspect that the contracted cleaning agency is responsible for.

But this is not all, because it also offsets costs thanks to the prices that office cleaning companies obtain in the wholesale purchase of cleaning products, utensils, and machinery, concepts that as a customer you do not have to worry about.
Hire a professional cleaning service provider.
 For this reason,  the best way to maintain a clean office is to hire the services of a professional cleaning company that takes care of the planning and uninterrupted execution of maintenance for you to improve the image of your business, achieving a healthier, more pleasant environment. And productive.
Guarantee the level of confidentiality of your activities, a service without interference in office hours, together with the peace of mind of having cleaners in order, experts in their task, and who you will not have to deal with a professional cleaning service
And now that you know how and why you should keep your office clean, entrusting the maintenance to a cleaning company like ours, we invite you to get to know us and have our budget without commitment.