Office cleaning materials are necessary for maintenance and hygiene work to have the expected results. The maintenance of all areas of your company requires first-rate personnel, but also office cleaning materials that are of quality and with certain specifications according to use.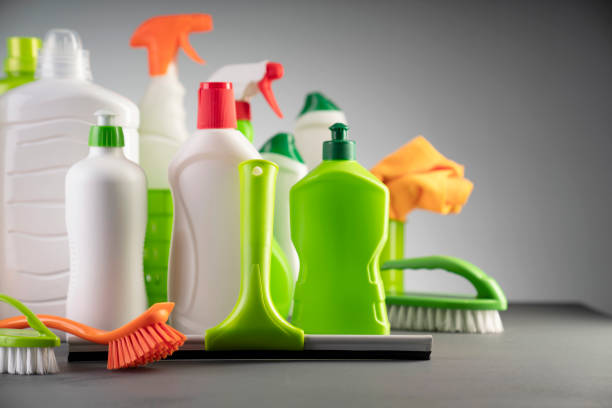 Contents 
1 What are the office cleaning products and materials you need?

1.1    Cleaning products

1.2   Cleaning materials

2 Distributors of cleaning products

3 Where to find the best office cleaning materials?
What are the office cleaning products and materials you need?
   Cleaning products
Cleaning products are all those chemicals manufactured with a specific objective, it can be to remove stains, disinfect, polish, deodorize, and for endless uses that will depend on the place and the conditions where it is going to be used.
Industrial cleaning products must be adjusted to regulations and are offered in a variety of presentations and uses for your company, we will name the most common, but it will always depend on the type and size of the business and the number of people who pass through the company. :
  Bathroom cleaning
Disinfectant, anti-mold or descaling products are used, which eliminate the residues that the water leaves and that stain the tiles and the toilet, in addition, they must be quite effective products for the disinfection of that place so exposed to the proliferation of bacteria.
  Furniture cleaning
All offices are equipped with shelves, desks, chairs and all the necessary furniture to carry out our functions within the company. These pieces of furniture are filled with dust that we must constantly remove, or we can also find furniture with upholstery that requires professional cleaning. 
To remove dust from furniture, there are multi-surface cleaning products that restore shine, leaving them rejuvenated and smelling clean.
  Floor and surface cleaning
For  surface cleaning, it will depend on the type of soil we have. There are specific cleaning products for each type of floor, for natural stones, stoneware floors, granite, shiny tiles, rustic floors, etc. Also in cases of carpet cleaning, we will need special products to prevent them from deteriorating when cleaning them. 
  Window cleaning
Cleaning glass is one of the most delicate tasks and requires specific office cleaning materials, which should not damage their delicate surface.
Multi-use window cleaners are the option to keep our windows impeccable, since they remove stains, degrease and give transparency, offering that feeling of hygiene and good taste for details.
  Air fresheners
They are designed to spread pleasant aromas in the environment, giving warmth and a clean smell to the area.
  Cleaning materials
Among the office cleaning materials, we have, on the one hand, the materials and, on the other, machines. Here's what we need to know:
  Materials or items
Here we can mention brooms, mops, and dustpans, which are for cleaning surfaces. We will need glass cleaners, and cloths to remove dust, and polishes to ensure an impeccable finish.
We must also take mops and buckets for cleaning delicate surfaces into account. The signaling cones should not be missing. Because of the safety of the employees and people who pass through there. In this way, we will avoid unexpected accidents.
Other office cleaning materials that we usually call consumables. Although they are not directly considered for office cleaning. Cleaning materials must be supplied to complement that pleasant, clean and safe environment. Among them, we mention dermatological gel for bathroom dispensers, toilet paper, and hand blotting paper.
Other cleaning items we can also consider important are: dusters and squeegees for proper cleaning of glass and windows. Without leaving behind the importance of garbage bags in their various presentations.
  Machines
Among office cleaning materials, as far as machinery is concerned, we have polishers, vacuum cleaners, pressure washers, and scrubbers.
They are all important, but every day new cleaning machinery comes out that must be part of the companies cleaning inventory. At SCS Group we have the latest technology in office cleaning machinery. For this reason, we offer our clients the best results.
Distributor of cleaning products
When we go to buy cleaning materials for the office we must look for quality since this will save us time and money, and, apart from having the guarantee that your facilities are properly disinfected, clean and free of bacteria, you will offer pleasant spaces that generate comfort and safety to everyone who passes by.
There is an innumerable number of products and materials on the market, with different specifications for use, quality, and brands.
Well, without a doubt, you should find a provider of cleaning products adjusted to your budget and that advises you on what you should buy according to your needs and those of your business. Look for true professionals in cleaning materials for offices and the results will not wait.
In  SCS Group Integrated Services we are specialists in the maintenance and cleaning that you need. All services are in the best hands.
We offer the most complete service, with the best staff, the best advice, and the best equipment and cleaning materials for your office. Because not only can an excellent work team give you what you need, but it must have quality materials and cleaning products that provide the best results in hygiene and cleanliness.
Entrust to SCS Group Integrated Services the cleaning and maintenance of your business. Your time is important and we know it. That is why the quality, professionalism, and efficiency of our services, materials, and products will give you the guarantee you need for your business. If you would like to learn more, please contact us.